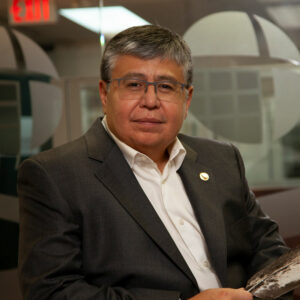 Terry Goodtrack
Public Service (2022)
Wood Mountain Lakota First Nation, SK
"When I think of good business, I think about inclusivity. That's what business in Canada should be, inclusive of Indigenous communities, Indigenous individuals…A vision for the community must first be created, then leadership objectives consistent with that vision need to be put in place. To execute on this vision and objectives, the community needs management and financial professionals who can execute on the plans."
For over thirty years, Terry Goodtrack created opportunities for Indigenous people and made significant contributions to Indigenous wellbeing at local, national, and international levels. After graduating from the University of Regina with a Bachelors of Administration, and a Masters in Public Administration from Carleton University, he went on to achieve his Chartered Professional Accountant designation. He is also a fellow and a Chartered Corporate Director at McMaster University. He also holds both a CAFM and CAPA designation from AFOA Canada.
In 2011, he became the President and CEO of AFOA Canada, expanding the organization's focus and adding new certification programs and professional development workshops. Through extensive networking, Terry built an international executive program in conjunction with the Harvard Business School at Harvard University and held an international conference on Indigenous finance and governance with Indigenous groups in New Zealand, Australia, and the US. Terry is uniquely positioned to see the challenges facing Indigenous communities and organizations as they work toward enhancing their skills, knowledge, and experience as professionals to ensure a more prosperous future.
Terry is also a sessional lecturer at Carleton University in the Graduate Diploma program on Indigenous Policy and Administration.