Supporting First Nation, Inuit and Métis Students
Did you know?
Indigenous youth are Canada's fastest growing demographic group
Indigenous students do not receive full funding for their education, contrary to popular belief
Lack of finances is the greatest barrier to completing post-secondary education for Indigenous people.
Indspire responds to this need by providing financial support to Indigenous students so they can complete their education, become self-sufficient, enhance their ability to support their families, and give back to their communities.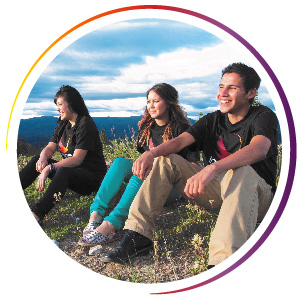 How Does Indspire Help Students?
Indspire provides bursaries and scholarships to eligible students to help them complete their education and training for careers in many growth sectors of the Canadian economy.
A Proven Track Record of Success
Indspire is the largest funder of Indigenous students outside of the federal government. It is a financially accountable, national, registered charity that has a proven track record of delivering effective programs and achieving tangible results. Since 1996, Indspire has awarded over $217 million in financial support to more than 66,000 First Nations, Inuit and Métis students.
Repeatedly, we have seen that investing in one Indigenous student leads to benefits for their immediate family and many generations to come, helping to create a path out of poverty and towards success.
Donate to Indspire and you will not only be changing the lives of students, but also communities.
To learn more about the impact your support can have, click here.