Guiding the Journey: Indigenous Educator Awards
November 15 – 17, 2023 | Montréal, QC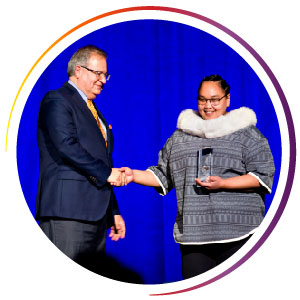 The Guiding the Journey: Indigenous Educator Awards recognize Indigenous educators, one Indigenous organization, and one non-Indigenous educator who have made valuable contributions to community-based education and who honour the principles of Indigenous knowledge.
Award recipients receive a complimentary ticket to the 2023 National Gathering for Indigenous Education, an award from Indspire President and CEO, Mike DeGagné, and a gift of $1,000 to be used towards classroom needs. They will also receive an all-expense-paid trip to the awards ceremony in Montréal, Québec.
2023 Guiding the Journey nominations are now closed. Thank you to everyone who submitted a nomination!
---
2022 Guiding the Journey Recipients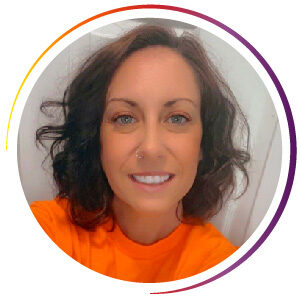 Brittany Pennell
Community Service
Acadia First Nation, NS
Telsui (my name is) Brittany Sue Pennell. N'in na nuji-kina'muey (I am an educator). Brittany is a proud registered member of Acadia First Nation.
Brittany Pennell is a 37 year-old mother to 5 beautiful children (baby 6 on the way) and fiancé to her loving, wonderful, supportive spouse. She attended university from high school and received my Bachelor of Arts degree. After receiving her BA, Brittany applied to the B Ed program. She strives to be a change maker and share her passion surrounding the pride and knowledge that she has of her Mi'kmaw roots and identity. Brittany was the first ever, Fine Arts Specialist with an Indigenous Focus for Halifax Regional Centre for Education. From there she took a leap of fate and became the Region's Coordinator of Mi'kmaw Education & Services. During this time, Brittany obtained her master's in education focusing on Culturally Responsive Pedagogy.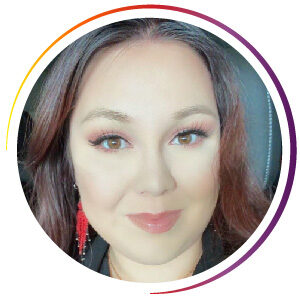 Marika Schalla
Innovative Practice
Manitoba Métis Federation, MB
Marika Schalla, Waabishkaanakwadikwe – White Cloud Woman, is a Metis-Anishinaabekwe educator, curriculum developer, workshop facilitator and mother. Marika has an inherit passion for Indigenous education the engages Indigenous and non-Indigenous students across Canada. Marika currently teaches grade 1/2 at Niji Mahkwa school in Winnipeg's North End. In her classroom, Marika recently developed an early year's land-based learning course that introduces students to the land through the thirteen moons and seasons-based lens. In her school, Marika established her school's first Truth and Reconciliation committee. A group of educators who are dedicated to the 94 Calls to Action set forth by the Truth and Reconciliation Commission of Canada. In her division, Marika helped to create planning guides for grades K-4 and 5-8 for Truth and Reconciliation month. She has consulted and developed Indigenous curriculum and lessons for various provincial school divisions and national organizations such as Taking It Global, Let's Talk Science, and Your Voice is Power. Marika facilitates workshops nationally on various Indigenous education topics such as Land and Water teachings and Truth and Reconciliation. Marika has committed her career and education journey to indigenizing our learning spaces.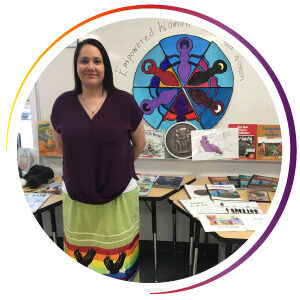 Myrna Ducharme
Language, Culture, and Traditions
Split Lake, MB
Myrna's life is a testament to her strong beliefs in education and Indigenous culture. As a Grade 5 teacher at Kelsey Community School, she is often sought after her leadership, guidance, and knowledge. Outside of school, Myna is Chair of the Indigenous Committee for the Kelsey Teachers' Association and is an extremely involved member of her community. She organized a committee to plan a weeklong Indigenous Peoples Celebration that takes place each June. She has also worked on the Treaty Relations Pilot Project and History of Opaskwayak Cree Nation curriculum development. Myrna's insight and knowledge were important to Kelsey Community School in receiving grants which allowed the school to run Cree language lessons during community nights for students and their families. She has a passion for education and Indigenous culture which makes her stand out as an inspirational role model for both adults and children.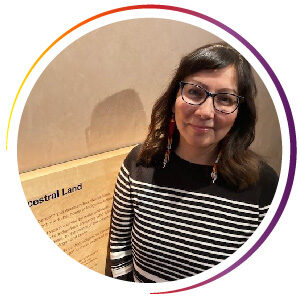 Sherri Denysuik
Leadership
Sagkeeng First Nation, MB
Sherri Denysuik is Anishinaabe kwe from Sagkeeng First Nation. Sherri is an educational leader who works hard to build and strengthen relationships in school communities, the Indigenous community and beyond. She is currently the Director of Indigenous Inclusion and Adult Education Centre in Seven Oaks School Division. In her role, Sherri facilitates professional development, striving to build capacity in kindergarten to grade 12 teachers and administrators. Sherri led the creation of the Seven Oaks Annual Graduation Pow Wow, which is now in its 14th year. She has been part of the ongoing evolution of the Ojibwe Bilingual Language program in Seven Oaks, provides direction for the Community Aboriginal Teacher Education Program (CATEP) and was instrumental in the creation of the Aki Land Based Learning Center in Seven Oaks. In a humble and intentional way, Sherri finds spaces and opportunities to bring people together, encouraging everyone to find and bring out their strengths.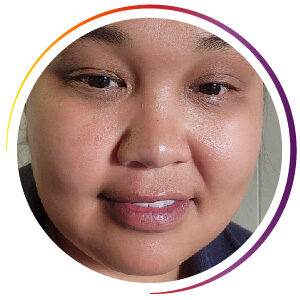 Naiome Eegeesiak
Role Model
Iqaluit, NU
A talented musician and committed educator, Naiome serves as an instructor for the Nunavut National Arts Centre's Music Alive Program and has taught fiddle and accordion workshops for students at schools all over Iqaluit, Pangnirtung, and Kimmirut. Currently studying for her Bachelor of Education degree, she is also a dedicated volunteer with the Iqaluit Fiddle Club, with whom she teaches and organizes events such as the annual Iqaluit Summer Music Camp. She is the 2017 recipient of the City of Iqaluit's Arts Volunteer Award. Known and respected for her welcoming and engaging manner, Naiome inspires young people she meets to try their best and to persevere in their learning. Her dream is that youth all over Nunavut will have the opportunity to express themselves through music.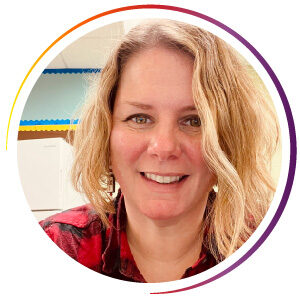 Allison Norman Atlookan
Partner in Indigenous Education
For the past 6 years, Allison (Norman) Atlookan has been living and working in the beautiful community of Eabametoong First Nation as a classroom teacher, and most recently as the head of the Special Education Department at the school. During her time there, Allison loved finding ways to build meaningful relationships with her students, their families and the community as she continued to learn and grow as an educator. Allison not only has her Special Education Specialist certification but has completed numerous courses and workshops on literacy and literacy instruction. Her proudest accomplishments at the school were helping to support the youth and grow the JCY Rez Girls 64 Wolves Hockey Team Program.
Allison's background before teaching in Fort Hope was very eclectic. She has a Bachelor's Degree in Clarinet Performance from the University of Toronto and graduated from York University with a Bachelor of Education. She also enrolled in the Teach for Canada Program in 2016. After the Teach for Canada program at Lakehead University taught by Indigenous leaders, experienced northern educators, elders and many other experts in the field, she knew this was the work she was passionate about. Allison can't wait to continue to travel north to support her second home of Eabametoong (Fort Hope) as well as the communities of Fort Albany and Attawapiskat in her new role as the Psychological Services Coordinator in the Indigenous Mental Wellness Division of Dalton Associates.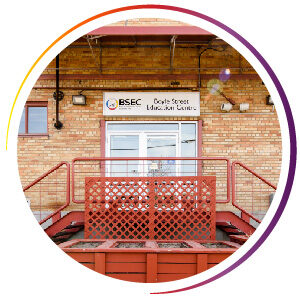 Boyle Street Education Centre
Organization
Edmonton, AB
Boyle Street Education Centre (BSEC) is open to young people who are not experiencing success in conventional learning environments. Approximately 90% of their student population is comprised FNMI students.
BSEC students are survivors of intergenerational oppression, they experience barriers to wellbeing that include racism, abuse, and extended periods of unstable housing. In many cases, their students have lived for long periods without positive adult role models, adequate financial resources, or good mental health.
To counter the effects of these barriers, BSEC offer many qualities like a family. The school accepts students wherever they are in their journey and offers a program that is flexible and diverse enough to respond to changing circumstances. This welcoming, caring, respectful and safe learning environment helps our students develop a sense of hope. Boyle Street Education Centre has services and supports in place to help students in crisis find a way into learning.
---
Questions?
If you have any questions regarding Guiding the Journey: Indigenous Educator Awards, please contact us at educatorawards@indspire.ca or visit our FAQ page.