Guiding the Journey: Indigenous Educator Awards
November 23 – 25, 2022 | RBC Convention Centre – Winnipeg, MB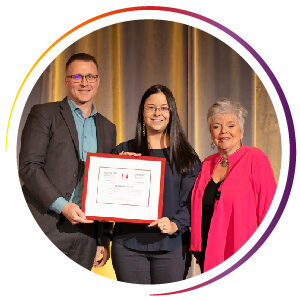 The Guiding the Journey: Indigenous Educator Awards recognize Indigenous educators, one Indigenous organization, and one non-Indigenous educator who have made valuable contributions to community-based education and who honour the principles of Indigenous knowledge.
Award recipients receive a complimentary ticket to the 2022 National Gathering for Indigenous Education, an award from Indspire President and CEO, Mike DeGagné, and a gift of $1,000 to be used towards classroom needs. They will also receive an all-expense-paid trip to the awards ceremony in Winnipeg, Manitoba.
Call for Nominations
Indigenous educators guide their students' journey through leadership, innovative practice, and dedication to community. Guiding the Journey recognizes Indigenous educators who have made valuable contributions to community-based education and honour the principles of Indigenous knowledge.
To nominate an educator or organization for a Guiding the Journey award, you must first determine the eligibility of the nominee, then complete and submit the Online Nomination Form or downloadable Nomination Form. To access the Online Nomination Form and review the Eligibility Criteria, please visit our How to Nominate page for more information.
The deadline to nominate is August 15, 2022.
---
2021 Guiding the Journey Recipients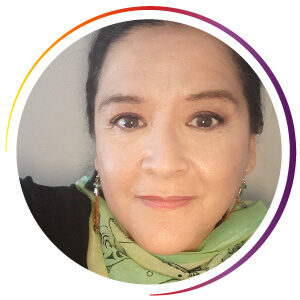 Terri Galligos
Community Service
First Nation, Tla'amin Nation, BC  |  School District #43 – Coquitlam
Since 1995, Terri Galligos has been an educational leader, incorporating Indigenous pedagogies throughout School District #43, Coquitlam. Terri pioneered Indigenous Education as the first self-declared, status First Nations teacher visibly representing Indigenous ways of being. Firstly, by providing cultural outreach to self-declared students of Aboriginal ancestry; thereby, resulting in a curiosity and increase in Aboriginal students and staffing. Then, shape shifting from hosting an Aboriginal Kindergarten program; providing Literacy; and, Learning Centre support, to a District wide role as Resource Teacher. Knowing who she is and where she comes from roots Terri's resourcefulness when delivering a pedagogical energy as a Tla'amin educator.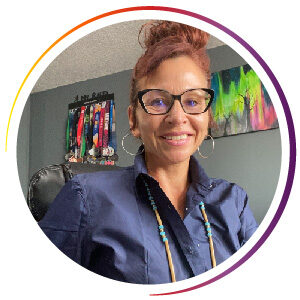 Robyn Michaud
Innovative Practice
First Nation, Sagamok Anishnawbek First Nation, ON  |  Central Public School, ON
Throughout her 25+ years as an educator, Robyn has accumulated many awards for her teaching and role modeling. The innovative way she uses social media to engage staff, parents and students has been well-documented and her innovative spirit extends to her passion for advancing Indigenous education. A good example of this is her use of Gord Downie's The Secret Path as a teaching tool, which garnered her school national media attention via CBC, and a visit from Gord Downie's brothers Pat and Mike Downie. Robyn is particularly passionate about teaching character education, holistic wellness and self-care to her students through hands-on arts lessons and traditional Anishinaabe teachings.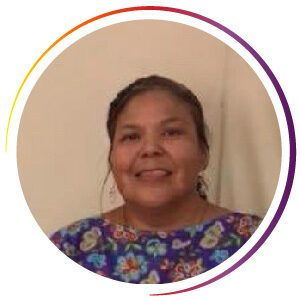 Sandra Manyfeathers
Language, Culture and Traditions
First Nation, Kainai First Nation, Alberta  |  University of Calgary
Sandra Manyfeathers is a member of the Kainai First Nation. She is the Academic Coordinator/Instructor of Blackfoot Language & Culture Programs at Werklund School of Education, University of Calgary and previously created curriculum and taught Blackfoot Language. Sandra received three of her degrees from the University of Calgary including a BA in Canadian Studies, a BEd, an MEd, and is currently working toward her Doctor of Education in Learning Sciences. With Blackfoot as her first language, Sandra has received many awards for language teaching include the YMCA Volunteer of the Year Award, Global TV's Woman of Vision Award & the Chief David Crowchild Memorial Award from the City of Calgary for her work on Blackfoot Language Revitalization.  Sandra's vision for the future includes young Blackfoot people speaking the language fluently and she is committed to making this a reality.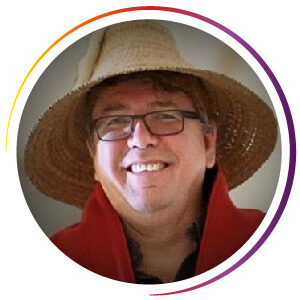 Bill Montgomery
Leadership
First Nation, Haida Gwaii, BC  |  Upper Canada District School Board, Brockville, ON
Bill is the Indigenous Education System Support Teacher with the Upper Canada District School Board. His leadership qualities are felt by over 200 First Nations, Métis and Inuit students involved in the iLead program that encourages a reclamation of their    Indigenous cultures. Educators at the Elementary and High School level are also exposed to Bill's leadership as a teacher of teachers. His role is to support the integration of Indigenous themes into the curriculum. His slow, steady approach is well-received, and demonstrative of his understanding of the audience — the ultimate mark of a great leader.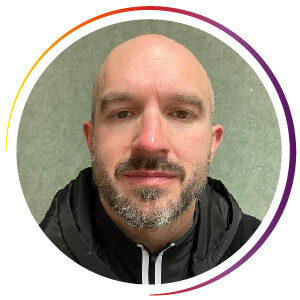 Derek Eftoda
Partner in Indigenous Education
Meadow Lake, Saskatchewan  |  Carpenter High School, Meadow Lake, SK
Derek is respected and recognized by the staff and students at Carpenter High School for raising awareness of Indigenous issues. He is responsible for introducing Gord Downie's Secret Path Project to his school and is currently creating an area in the school dedicated to Truth and Reconciliation. Derek is also a leader of a program called Following Their Voices; a Ministry of Education initiative focused improving the educational experience and outcome of Indigenous students. Derek has been instrumental in shaping the environment at Carpenter High School to be more welcoming to Indigenous students.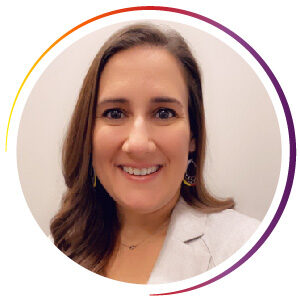 Laura Buller
Role Model
Métis, Manitoba Métis Federation, Manitoba  |  Elmwood High School, Winnipeg, Manitoba
Laura is the grade 9-12 social-emotional support lead in Elmwood High School's Student Success Center. She is also responsible for an Indigenous leadership program that provides a safe place for Indigenous students to learn about themselves and each other throughout their journeys. Her leadership can be seen in the opportunities she's created through the program, most notably an Indigenous student team that won the Asper School of Business Indigenous Ingenuity competition. As a leader of educators, she continues to bring a wealth of knowledge back to her school community on how to better support Indigenous students in the classroom.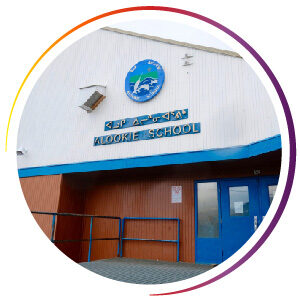 Alookie School
Organization
Alookie School is a kindergarten to grade 5 school located in Pangnirtung, Nunavut. Staff focus daily on the development of the whole child through a grounding of all school ways in Inuit Qaujimajatuqangit (Inuit ways of knowing, being, and doing). This is one of few elementary schools in Nunavut to have a mainly Inuit teaching staff who instruct in Inuktitut. They aim to have a balance of the first language of students (Inuktitut) and the second language (English). Learning with and from elders is an integral part of the Alookie School's programming.
---
Questions?
If you have any questions regarding Guiding the Journey: Indigenous Educator Awards, please contact us at educatorawards@indspire.ca or visit our FAQ page.