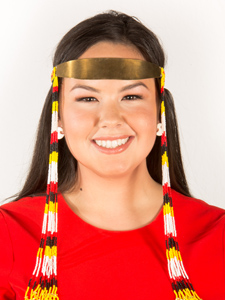 Maatalii Okalik
Youth (2017)
Inuk, Nunavut
"Be proud to be Inuk. Strengthen your relationship with your language and culture. Be confident in who you are. And continue to become educated, not only in K–12 and in post–secondary but in Inuit knowledge. Challenge existing structures and evaluate if they are working. Love yourself, spend time with elders and keep your head up. You're not alone."
At just 27 years old, Maatalii Okalik is a political advocate and has even been called the voice of the next generation.
In her role as President of the National Inuit Youth Council, Okalik promotes and practices Inuit languages, cultures, suicide prevention, education, empowerment, and reconciliation. She represents Inuit youth in Canada from the Inuvialuit, Nunavut, Nunavik, and Nunatsiavut regions and acts as the spokesperson for the Council. She is building awareness and understanding of the circumstances of Inuit youth locally, nationally, and internationally. She has spoken at Canada's Parliament addressing the Senate Standing Committee on Indigenous Affairs, at United Nations forums including COP22 in Morocco, and actively engaging Inuit youth and global citizens online on Instagram, Facebook, and Twitter.
Maatalii is soon to complete her degree in Human Rights and Political Science with a Minor in Aboriginal Studies, from Carleton University.
In addition to her volunteer role with the National Inuit Youth Council, she works full time with the Government of Nunavut, as the Chief of Protocol with the Department of Executive and Intergovernmental Affairs. She has held many leadership positions within the Government of Nunavut and in different organizations, including at Nunavut Sivuniksavut, Students on Ice and serving as the President of the Ottawa Inuit Children's Centre.
Okalik is a role model for all youth across the country. She is a proud Inuk with a solid grounding in tradition and has the ability to move seamlessly between the tundra and Canada's cities.