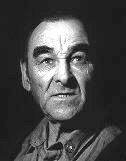 Art Solomon
Culture, Heritage and Spirituality (1994)
A passage from Art Solomon's book, Songs for the People: Teachings on the Natural Way (NC Press) describes Aboriginal society prior to the arrival of Europeans: "We were not perfect, but we had no jails, we had no taxes…no wine and no beer, no old peoples' homes, no children's aid society, we had no crisis centres. We had a philosophy of life based on the Creator. We had our humanity."
Mr. Solomon was the eldest of ten children born to a French Canadian mother and Ojibway father in the Killarney region of Georgian Bay, and attended Roman Catholic residential schools.
In the 1950s, he was asked to join the Nickel Belt Indian Club. It was from that time on that he began to explore the cultural heritage that he had been denied as a young man. Since then, he has advocated for the empowerment of Aboriginal people and communities. He was one of the first people to organize traditional arts and crafts marketing, providing northern artists with a vital economic opportunity by brokering their crafts to the southern native outlets.
Mr. Solomon has been the beacon of hope and inspiration to Aboriginal men and women in Canadian prisons, and through decades of perseverance, won the right to allow Aboriginal healing methods and traditional ceremonies in prisons. He is a strong supporter and a council member of the Leonard Peltier Defense Committee in Canada; a traditional drum that Mr. Solomon made will be presented to Peltier upon his release from prison.
Mr. Solomon has traveled throughout the world to promote peace among religions and cultures. His teachings frequently return to two principles – the necessity for a deeper understanding of Aboriginal traditional ways, and the need for relief of human suffering.
He has received many honours in recent years, including a number of honourary doctoral degrees. Perhaps his greatest honour is that his teachings of traditional Aboriginal ways and reverence for Mother Earth, which have for so long been respected in the Aboriginal world, are reaching non-Aboriginal people on a global level.