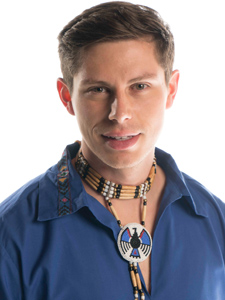 Thomas Dymond
Youth (2017)
Bear River First Nation, Nova Scotia
"There isn't always a clear direction in life – embrace who you are, your own journey, and take pride in yourself. Never forget where you came from; let it shape you, and guide you where you want to go."
Thomas Dymond received both his undergraduate and Master of Science in Kinesiology at Memorial University of Newfoundland. In September 2016, Thomas began studies at Queen's University School of Medicine.
Thomas kept himself busy during his years in school, maintaining a full academic course load, along with part-time employment, and significant volunteer involvement on campus and within the broader community. Some of the community work that he has done includes being a founding member of the Wape'k Mui'n drum group; acting as Youth Representative at the St. John's Native Friendship Centre; and being involved with the Memorial University Student Union as the Aboriginal Students' Representative.
During his time with the Union, Thomas advocated for Indigenous students on campus, fighting for equitable treatment. His advocacy also extended to national campaigns such as Sisters in Spirit, which aims to raise awareness surrounding violence toward Indigenous women and girls, and Education is a Right which is geared in part to increasing financial support for Indigenous post-secondary students.
Thomas has exemplified what it takes to give back. He is truly dedicated to his community both on and off campus. Thomas is a role model for his peers in his work with the St. John's Friendship Centre, as a Residence Assistant in his university dorm; and in his role in Search and Rescue with the Canadian Coast Guard Inshore Rescue Boat Program. Thomas' diverse body of work and experiences have led him on his current path of pursuing a career in Medicine.