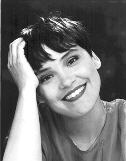 Susan Aglukark
Performance (1994)
Susan Aglukark personifies the spirit of the Arctic. Through her music and personal appearances, the 27 year old singer/songwriter has become a goodwill ambassador for the Inuit people, and a role model for youth. Her soon to be signed international recording contract with EMI Music Canada will ensure that her music and message will reach people of all ages and cultures around the world.
Ms. Aglukark grew up in Arviat, Northwest Territories, an isolated community on the west coast of Hudson Bay. Her first performing experience came at nine, singing in the Pentecostal church where her father was a minister. Her first national exposure came with the 1990 educational video Searching which won the Top Cinematography Award from Much Music. Her first recording, Dreams for You was followed by the 1992 CD Arctic Rose, and a Christmas CD in 1993.
Many of the lyrics on her album are in her native language, Inuktitut, and tackle vital social issues such as teenage suicide, problems with alcohol and drugs, and the spiritual and cultural estrangement of Inuit people. Ms. Aglukark's music offers hope and dreams for all youth.
Ms. Aglukark has represented Canada at such international forums as the World Conference on Human Rights in Vietnam, and the Davvi Suuva music festival in Sweden. She has appeared on several nationally televised specials, including the 1993 Canada Day Celebration in Ottawa on CBC. She was selected as one of the 100 Leaders to Watch For by McLean's magazine in 1993, and was chosen by Up Here magazine as the 1993 Northerner of the Year.
Rosemarie Kuptana, President of the Inuit Tapirisat of Canada, aptly describes Ms. Aglukark as "an ambassador for Inuit, a woman of wisdom, a leader."
Watch Susan Aglukark's Walrus Talks Videos