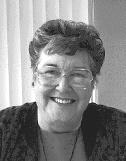 Senator Thelma Chalifoux
Public Service (1994)
Thelma Chalifoux's mother and father had a profound effect on the path that she has chosen to follow in her life. Her father, Paul Villeneuve, told her that she would be strong and independent because she was born in a blizzard. He taught her that the Métis have always worked for their families. Her mother, Helen Villeneuve, kept the family strong by keeping them united.
From the time Ms. Chalifoux was young, she cared for others, including elders in her family. After leaving an abusive marriage in the 1950s, she went back to school to study sociology at the Lethbridge Community College, and construction estimating at the Southern Alberta Institute of Technology, while working to support her seven children. Since the late 1960s, Thelma Chalifoux has worked extensively with rural and Aboriginal organizations, and in other forums where she has contributed to the betterment of the Métis and has supported and initiated programs for all Aboriginal people.
She has negotiated and assisted in getting facilities and programs for many Aboriginal organizations such as Friendship Centres, and has worked tirelessly in areas that include Aboriginal communications, housing, education, suicide prevention, prisons, battered women, cross-cultural training in government departments, and alcoholism.
Ms. Chalifoux was one of the founders of the Slave Lake Native Friendship Centre, and was instrumental in getting the Cree language taught in northern schools. She has worked for the Company of Young Canadians in community development, and rural and native housing; as the first full-time Métis woman staff announcer, producer and host of a weekly show on CKYL Radio Peace River; and as the co-producer of Our Native Heritage series on Allarcom (ITV). She was the first Metis woman to serve on the Senate of the University of Alberta.
She is currently a Social Allowance Appeal Panel member, Child Welfare Appeal Panel member, co-chair of the Metis Nation of Alberta, and chair of the Métis National Senate Commission.
In accepting the National Aboriginal Achievement Award, Ms. Chalifoux wrote, "The struggle has been a challenge, but my blessings have been many. This award is the icing on the cake, but my heart sings when someone comes to me and says that because of what I did their lives are better."