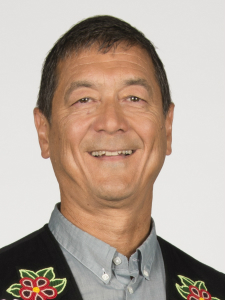 Mark L'Hirondelle Stevenson
Law and Justice (2016)
"Our job is serving the Indigenous community and the Creator with honour and integrity, and to love those we serve more than we love ourselves."
Mark L'hirondelle Stevenson's goal is working towards truth and justice for Indigenous people. He has a Master of Law (University of British Columbia), Bachelor of Law (McGill University), and Master of International Relations (Jawaharlal Nehru University, India). His deep spiritual beliefs come from his mother and his time spent in India.
Mark's career began in 1982 at the Privy Council in Ottawa, working on Indigenous constitutional matters. He worked as Legal Counsel for the Ontario Native Affairs Secretariat (1987- 1991) and as a Chief Treaty Negotiator with the Government of British Columbia (1991-1998), after which he went into private practice.
Mark has negotiated a variety of agreements on behalf of Indigenous People including oil, gas, and mineral revenue sharing agreements, forestry agreements, and more. He was instrumental in developing the First Nations Financial Management Act and the settlement legislation for the Tsawwassen Final Agreement.
As a commissioner for the Law Commission of Canada, Mark developed its Indigenous agenda and urged the Commission to shape the debate on the Crown's fiduciary duty, and provided leadership for the Commission's pioneering work on Indigenous Legal Traditions.
In 2009, Mark received the Indigenous Peoples' Counsel designation from the Indigenous Bar Association, which recognizes outstanding accomplishments achieved with honour and integrity – a fitting tribute to a tireless advocate and legal warrior.
Mark now practices law, negotiates treaties, and provides advice on best practices for structuring First Nations businesses. His family originates from the historic Métis community of Lac Ste. Anne, Alberta. He lives in Victoria with his wife Kimberly