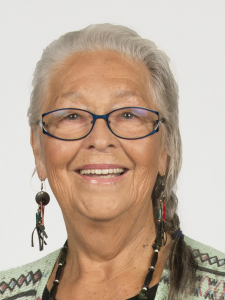 Elder Mae Louise Campbell
Culture, Heritage, & Spirituality
"Peace and success come when we believe in our oneness with Mother Earth. Explore what that means and you will know your identity as a true Indigenous person."
Born in 1934 into a family that lived off the land in northern Manitoba, Elder Mae Louise Campbell grew up rooted in nature's cycles and Indigenous cultural values.
But colonization and residential schools cast their shadows of alcoholism, violence, and sexual abuse on her community and family. She became a mother early, raising five children under difficult circumstances, but still knowing that only in the spiritual ways of her ancestors could healing and balance return to her community.
For over 81 years, Elder Mae Louise has taught and supported people in a variety of circumstances, from post-secondary educators, students, health workers, and administrators to women leaving prisons and addictions. Governments, band councils, service organizations, and communities in her home province and nationally rely on her guidance.
Today, she is Elder in Residence at the University of Manitoba's Faculty of Social Work and Red River College. For more than 16 years, she was the Keeper of Grandmother Moon Lodge, a healing lodge in rural Manitoba that served over a thousand Indigenous women.
From 2012 to 2014, she was part of the National Task Force on Sex Trafficking of Canadian Girls. As it became clear that the majority of the victims were young Indigenous girls, the task force came to depend on her for traditional knowledge and knowledge of sexual exploitation that is currently ravishing Indigenous communities. She also successfully advocated for a rural facility for exploited girls that is now running on 80 acres of land outside Winnipeg as part of Tracia's Trust: Manitoba's Sexual Exploitation Strategy.
Elder Mae Louise embodies a healing spirit, knowing from experience that only when women take their rightful places  as healers, leaders, and grandmothers – all walking proud – can families and communities heal.