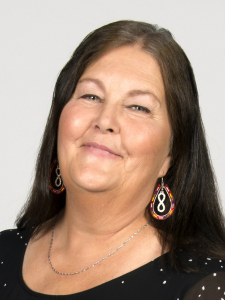 Dr. Jo-Ann Episkenew
Education (2016)
"We have to decolonize the imagination  to imagine a different way of being in the world."
Dr. Jo-Ann Episkenew's involvement in health research is unusual: her education is focused primarily in English literature; however, her background in literary analysis spurred her inquiry into the connections between storytelling and healing.

She uses Indigenous and arts-based knowledge to promote wellness among Indigenous youth and adults, including research into suicide prevention, trauma, and the effects  of racism and colonization on respiratory health.
She is Co-Principal Investigator on several operating grants from the Canadian Institutes of Health Research and is the Nominated Principal Investigator for the Saskatchewan Health Research Foundation Health Research Group Grant, through which her team is exploring connections between physical activity and suicide amongst Indigenous youth in Saskatchewan.

Her own story is one of healing. In 1988, as a mature student, a widow, and a single mother of four, Jo-Ann began studies at the Saskatchewan Federated Indian College, completing her Bachelor of Arts in 1991. She earned an Honours Certificate in 1992 and her Master's in 1994 from the University of Regina, and in 2006 she became the first Indigenous Canadian to receive a PhD from a German university (Ernst-Moritz-Arndt- Universität), which she received magna cum laude.

Published in 2009, her book Taking Back Our Spirits: Indigenous Literature, Public Policy, and Healing received acclaim from both academics and mainstream media. Written with passion and clarity, it examines both the legacy of "policies of devastation" imposed on Indigenous people and the path to healing. As she says, "Indigenous literature can heal both writers and readers."

Over the course of a storied career, she has become known for her ability to walk in both worlds: nurturing her identity as a Métis woman while succeeding in – and challenging – colonial institutions, for the benefit of all Indigenous people.

Jo-Ann and her husband Clayton have a blended family of  13 children and over 30 grand- and great-grandchildren.