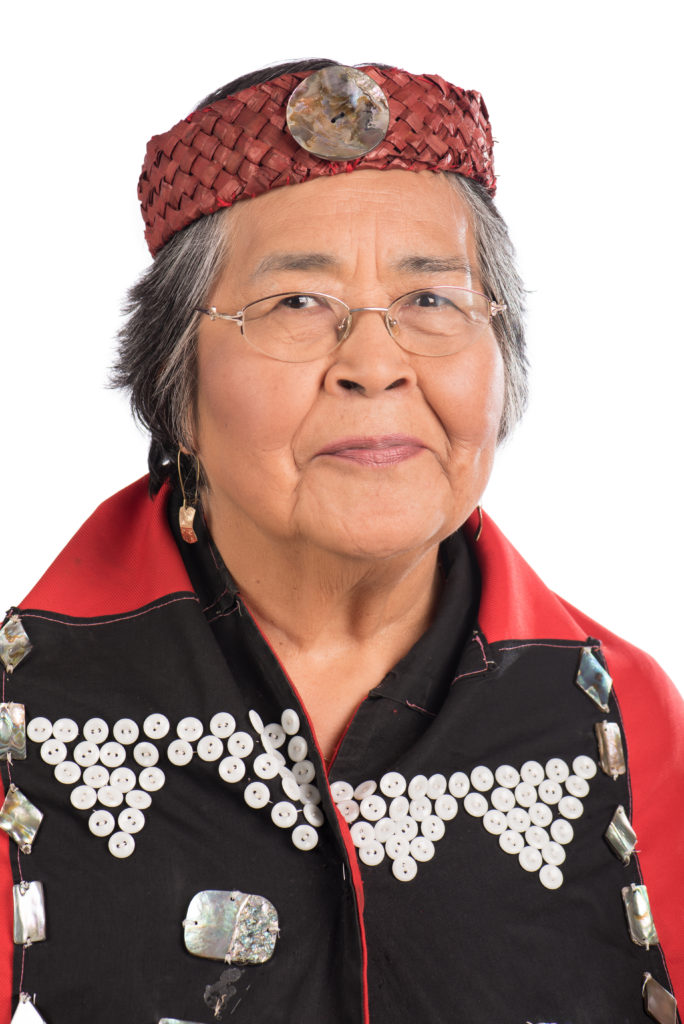 Dr. Evelyn Voyageur
Health (2018)
Musgamagw Dzawada'enuxw, British Columbia  
"Walk and live the path of traditional knowledge and you will have a healthy, balanced life to the end."
Despite going to St. Michael's Residential School at age ten, Dr. Evelyn Voyageur is a fluent speaker of Kwakwala and an active matriarch in the Kwakwaka'wakw culture and traditions. She has dedicated her life to improving the health of Indigenous peoples through her more than five decades in the nursing profession.
A leader in the transformation of Indigenous healthcare, Elder Voyageur is bringing back the holistic way of looking at health in First Nations communities by integrating spiritual, emotional, physical, and mental health in her work. She has co-authored a number of publications on cultural safety and nursing, sharing her knowledge with generations of nurses to come. She was instrumental in the development of A'eka-lixl, a community-led health initiative where culture is the foundation of wellness in Wuikinuxv First Nation and D'zawada'enuxv First Nation.
From 1999 to 2003, Elder Voyageur worked with the Indian Residential School Society, where she supported survivors healing from the trauma they experienced.
In 2003, Dr. Evelyn Voyageur became the first Indigenous nurse to receive Health Canada's First Nations and Inuit Health Branch Award of Excellence in Nursing. The award celebrates the dedication, initiative and excellence of nurses employed by First Nations communities, Health Canada and Inuit communities who work in partnership to improve the health of Canada's Aboriginal peoples.
At North Island College, Dr. Voyageur has worked to make changes to the nursing curriculum and help bring cultural awareness to the program. Since 1980, she has been active in the Canadian Indigenous Nurses Association, and was its President from 2010-2012. She also founded the Native and Inuit Nurses Association of British Columbia in the early 1980s to help education those who work with First Nations communities.