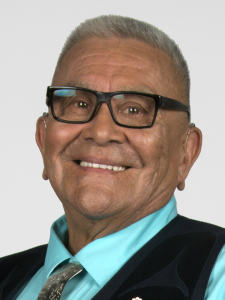 Chief Robert Joseph
Lifetime Achievement (2016)
"The quality of life for many may depend on you. Go and make a difference. The whole world waits for you."
Taken from his family at six years of age, Robert Joseph suffered irreparable harm while attending St. Michaels Indian Residential School for eleven years. Beaten by teachers until he experienced severe hearing loss, his learning was forever impeded. At times he was so hungry that he ate maggot- infested porridge. The ultimate betrayal was his exposure to sexual abuse.
Graduation was a hollow accomplishment. Leaving the school with no sense of value, Robert's early adulthood was scarred by alcohol and intergenerational trauma.
His journey of healing led to a First Nations Summit in Vancouver in 1994, where he expressed his rage and called for help for survivors. As a result of Robert coming forward, the Indian Residential Schools Survivors Society was created in 2002, and  he became its executive director, leading it for over a decade.
He was co-chair of a voluntary roundtable spearheaded by the United Church to advocate for a public inquiry into residential schools. He was instrumental in the creation of the Truth and Reconciliation Commission and parts of the Settlement Agreement. Robert remained active with the TRC until it made its final recommendations in 2015. He was one of four survivors who counselled Prime Minister Harper on the contents of the landmark apology by the federal government  to all Residential School survivors.
In 2012, he founded Reconciliation Canada, which actively engages multi-faith and multi-cultural communities to explore the meaning of reconciliation. Through his efforts, the organization has united Indigenous and non-Indigenous peoples. He is a testament to the ever-present possibility of healing and the power of forgiveness.
One of the last speakers of the Kwakwaka'wakw language, Robert taught at the First Nations Languages Program at the University of British Columbia. He was a Hereditary Chief of the Gwawaenuk First Nation.