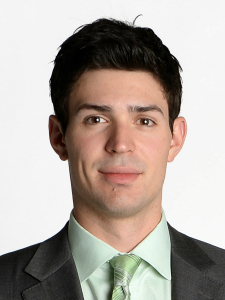 Carey Price
Sports (2016)
"I encourage First Nations youth to be leaders in their communities. Be proud of your heritage, and don't be discouraged by the improbable."
When Carey Price took the stage at the 2015 NHL Awards in Las Vegas, he was having one of the greatest seasons for a goalie in NHL history, leading the league with 44 wins, a 1.96 goals-against average, and a .933 save percentage.
That night, the 27 year-old member of the Montreal Canadiens won the NHL Hart Trophy for most valuable player as chosen by pro hockey writers; the Ted Lindsay Award, chosen by players; and shared the Jennings Trophy, awarded to the player with fewest goals allowed, with Chicago Blackhawks goalie Corey Crawford.
When he returned to the stage to accept the Vezina Award for best goalkeeper, his speech included a call out to all First Nations youth to be leaders in their communities and take pride in their heritage.
The combination of cultural pride and athletic prowess is almost inevitable: his mother Lynda is chief of the Ulkatcho First Nation, and was the first woman Chief elected to serve on the Union of BC Indian Chiefs' executive; his father Jerry is a goalie coach and a pilot who would fly nine-year-old Carey to the arena from their home in Anahim Lake.
Carey started playing amateur hockey at 15 and played his first NHL game with the Habs just five years later. His first three seasons were rocky, and today he thanks team management for not giving up on him.
He is also working to literally feed the dreams of children and youth as The Breakfast Club of Canada's national ambassador for First Nations, Métis, and Inuit communities. He has opened two breakfast programs in Anahim Lake and hosted fundraisers so hungry kids can eat at school and focus on their studies.
Carey is a role model of discipline, achievement, and concern for the next generation.