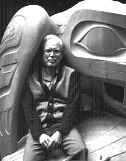 Bill Reid
Lifetime (1994)
William Ronald Reid is a world renowned Haida sculptor who has played a significant role in the revival of the cultural and artistic traditions of the Haida. His mother was Haida from Skidegate, and his father was of Scottish and German origin. He is the descendant of the great classic Haida carver and silversmith, Charles Edenshaw.
Mr. Reid spent his childhood in Victoria and Hyder, British Columbia and attended Hyder High School and Victoria College. His first adult career was in broadcasting as a radio announcer, including ten years at the CBC in Toronto and Vancouver. While studying jewelry making at Ryerson Institute of Technology in Toronto, Mr. Reid became acquainted with the collection of Northwest coast native art at the RoyalOntarioMuseum. Of special interest to him was a great pole from his mother's ancestral village, Tanu. It was during this time that he began to explore his cultural heritage and the art of the Haida people. In 1958, he wrote and narrated a CBC television documentary on the salvaging of the last totem poles in the Queen Charlotte Islands.
Mr. Reid returned to the west coast to pursue a career as an artist. In the early 1960s, he spent four years recreating a section of a Haida village for the University of British Columbia. Among his commissions are the Raven and the First Men, a yellow cedar sculpture for the Museum of Anthropology at UBC, the Lord Under the Sea bronze sculpture for the Vancouver Aquarium, the Lootas cedar canoe for Expo '86, and the Spirit of Haida Gwaii a bronze sculpture for the Canadian Embassy in Washington, DC. He has produced jewelry, drawings and silkscreen prints that are inspired by the vast legacy of Haida design.
He has received honourary doctoral degrees from the University of British Columbia, the University of Victoria, University of Western Ontario, TrentUniversity and the University of Toronto. In 1977 he received the Canada Council Molson Award and in 1990 the Royal Bank Award for outstanding Canadian Achievement.
Bill Reid's achievements as a master artist, a cultural revivalist and his involvement in Aboriginal environmental and social issues have earned him a significant place in Canadian history.