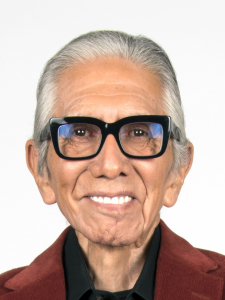 Leonard George
Public Service (2016)
"To survive, we must maintain our cultures and become modern-day hunters through education. Degrees, diplomas, and technical trades are tools that will allow us to grow into the future."
A spiritual leader of the Tsleil-Waututh First Nation of Burrard Inlet, an economic development visionary, and an actor, Leonard George has illuminated the future for Indigenous peoples in his community and across Canada.
Tsleil-Waututh underwent drastic, damaging changes after contact with colonial policies. Leonard himself struggled with the impacts of residential school and the Indian Act, as did many in his community. In 1989, the unemployment rate on the Tsleil-Waututh reserve hovered between 60% and 80%, and drugs and alcohol were problems. Today, it is less than 3% – a change that can be traced to Leonard, through his instinctive business acumen, desire to create partnerships, and ability to see vast potential in his people.
Leonard was chief of Tsleil-Waututh for 12 years, then retired to concentrate his efforts in his positions as Director of the Economic Development Department and Chief Negotiator for the Tsleil-Waututh. He is responsible for the creation of Takaya Developments, which has constructed Raven Woods, an 800 unit condominium development in his community.
Tsleil-Waututh Nation now owns and operates several businesses, as well as joint undertakings with business partners, ranging from recreational facilities, a construction company, wind turbines, a forestry company, and a cultural tourism operation. Each business's goal is to strengthen the community through capacity building, generating revenue,  or providing employment opportunities.
But Leonard's contributions extend beyond the Tsleil- Waututh's geographic boundaries. As an actor, he has a number of screen credits, including Little Big Man, Americathon, and Smoke Signals. Taught by and working closely with spiritual and traditional elders, he has demonstrated that incorporating the spiritual teachings when doing business with and for First Nations leads to success.