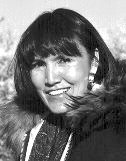 Cindy Kenny-Gilday
Environment (1994)
Cindy Kenny-Gilday was born and raised in Deline, Northwest Territories, a traditional Slavey village where she did not hear a word of English until she was 9 years old. Her early experience in Deline would eventually lead her to a lifelong commitment to vital Aboriginal concerns such as harvesting rights, language survival and environmental issues.
Ms. Kenny-Gilday's expertise in the areas of sustainable development and renewable resources has resulted in her involvement in regional, national and international forums. After a long career working with Aboriginal organizations, she has spent the past few years as a special advisor to the Government of the Northwest Territories' Department of Renewable Resources. She was the host of a special series on Aboriginal issues in Canada for TVNC, and served as the Communications Coordinator for the Dene National Office. She was also one of the first Aboriginal teachers in the Northwest Territories.
On an international level, she was the first Indigenous person to serve as councilor in the IUCN World Conservation Union and established its first Task Force for Indigenous Peoples. She was one the founders of, and served as a special advisor to, Indigenous Survival International, an Aboriginal conservation organization. In 1993, she moderated the United Nations Conference on Traditional Knowledge and Sustainable Development, and chaired the cultural component for an international symposium on community-based conservation. She has also been a leading spokesperson for Canadian Aboriginal harvesters on a national and international level.
Cindy, who holds a Bachelor of Education from the University of Alberta, is a board member of the World Wildlife Fund of Canada and the Canadian Native Arts Foundation, and chair of the IUCN Taskforce for Indigenous People.
She now lives in Yellowknife with her husband Bill, and their three teen-aged children.