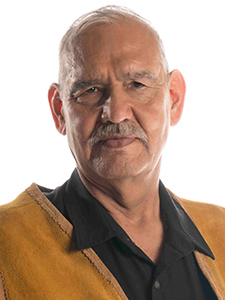 Phillip "Jerry" Asp
Business and Commerce (2017)
Tahltan Nation, British Columbia
Jerry Asp is one of Western Canada's most prominent Indigenous leaders. He is committed to enhancing the quality of life for Indigenous peoples through the creation of new business opportunities and development of skills and capacity in communities. In addition to supporting Aboriginal business development, Asp has also applied his leadership skills to serve the public.
His field experience in the mining industry began in 1965 when he started working on diamond drills. He then went on to work underground for six years in the Tantalus Butte Coal Mine. During this stage in his career, he was President of the only all-Native United Steelworker's Local in North America.
Since then, he has been extensively involved in Canada's mining industry and in supporting Aboriginal business development across Canada. Jerry was President and founder of the Tahltan Nation Development Corporation (1985), the largest Native-owned and operated heavy construction company in Western Canada, creating significant employment and economic opportunities for the Tahltan Nation. He is also a founding member of the National Indian Businessman's Association (1981), which became the Canadian Council for Aboriginal Business, as well as the Canadian Aboriginal Minerals Association (CAMA) where he served as Vice President from 1991 to 2013.
Jerry Asp's extensive list of accomplishments depicts a man who has aided the representation of Indigenous peoples in business. He displays a drive to improve the economic development of his home community and other Indigenous communities across the country.