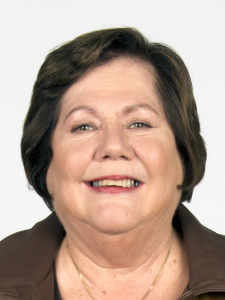 Pat Mandy
Health (2016)
"Believe in yourself. Be open to opportunities, even if they seem challenging. Foster effective relationships and always keep your sense of humour."
In 1965, Pat Mandy got her first job as a general duty nurse in Hamilton, Ontario, never guessing that it would someday lead to her overseeing billions of dollars in provincial funding and improving access to healthcare for Indigenous people  in Ontario.
Her 45-year career encompassed nursing, administration, teaching, and tireless volunteering for the betterment of Indigenous health.
She was a founding member of Registered Nurses of Canadian Indian Ancestry (now the Aboriginal Nurses Association of Canada), the first – and only – Indigenous president of the College of Nurses of Ontario, and a founding member of the Aboriginal Health Advocacy Committee, where she was vice- chair for more than a decade.
She has presented at international conferences and was chosen by Accreditation Canada as a surveyor, helping to raise standards in Indigenous health care.
As Vice President, Patient Services at Hamilton Health Sciences, she introduced enhanced Indigenous services and worked with the board's cultural advisory committee. Her impact can still be seen in the Pat Mandy Award, given to individuals who embrace the values of mutual respect and dignity for all.
In 2005, she became the first CEO of the newly created Hamilton Niagara Haldimand Brant Local Health Integration Network. She steered the organization through its early years, until her retirement in 2010.
She is board chair of De dwa da dehs nye>s Aboriginal Health Centre, which is creating two new culturally appropriate, holistic health care hubs. But her lasting legacy may be her impact on the next generation of Indigenous health practitioners, as their professor and mentor, by advocating for increasing Indigenous enrollment in health careers, influencing policy changes, and proudly living the traditions and teachings of the Anishnaabe.