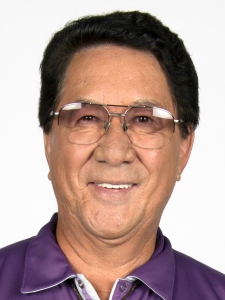 Michael Kanentakeron Mitchell
Politics (2016)
"Do not forget who you are. Do not lose your language. Always be proud of your nation and its traditions. We will survive no matter what."
Like the famed Mohawk ironworkers who built skyscrapers while balancing on girders hundreds of feet in the air, Michael Kanentakeron Mitchell has shown his skill at balancing nation building, leadership, and traditional beliefs.
His community, Akwesasne, spans international, provincial, and state jurisdictions and multiple councils, both elected and traditional. After growing up in this politically complex milieu and graduating from high school, he went into ironwork, like many Mohawks before him, including his father and brother.
In 1967, he left the trade to join the National Film Board's new "Indian Film Crew" training program. While at the NFB, a Mohawk border protest occurred at Akwesasne, and Michael co-produced You Are On Indian Land, an influential documentary about Indian border crossing rights and the failure of the Crown to recognize Treaty and Aboriginal rights.
He served a two-year term as a District Chief (1970-1972) and in 1974 took on a leadership role to revive the North American Indian Traveling College. In 1982, he returned to politics as District Chief.
He was elected Grand Chief of the Mohawk Council of Akwesasne in 1984 and was nearly continuously in that role until his retirement in 2015. His first task was to eliminate a  $3 million deficit, while guiding Akwesasne through hard times, when the community was divided – sometimes violently – on the issues of gambling and international smuggling, and also through successes, including negotiations to regain control of justice, membership, and policing, as well as conservation, health, and education programs.
Today, as a result of Micheal's work, some 1,000 employees administer a $104 million annual budget for Akwesasne's 15,000 members, proving that self-governance through modern democratic systems and Haudenoshaunee philosophy works.