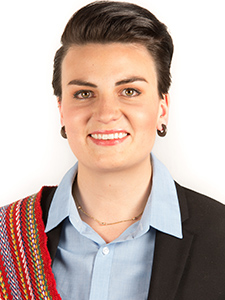 Heather Kashman
Sports (2017)
Métis Red River Settlement, Manitoba
After graduating from the University of New Hampshire in 2016, Heather Kashman brought to an end one of the most impressive hockey careers for a Métis woman, earning a Master's degree in Community Development, Policy & Practice, a Bachelor's Degree in Business, and serving as alternate captain for the last two years of her athletic career.
Growing up in Alberta, Heather was always a natural on the ice. In 2010, Kashman captained the Calgary Cowboys Native Provincial team and led them to win the provincial championship while also winning tournament MVP. In 2011, Kashman captained her Midget AAA team and led the Edmonton Thunder to an undefeated regular season as well as a silver medal in Nationals. Also in 2011, Heather was chosen for Team Alberta to compete in the Canada Winter Games. She was one of the top scorers on the team that beat Team Ontario twice, to win the Canadian championship gold. Finally, in 2011 she was voted the most valuable female hockey player in Alberta.
While in school, Heather volunteered her time coaching young girls in hockey while also offering her time to the Urban Native Ministry, where she cooked meals for the homeless. She also worked with local FNMI groups in Alberta to develop and implement the Flying Eagle Program, an initiative put in place to educate children and youth about First Nations, Métis, and Inuit culture. Heather currently works with Father Bills & Mainspring, a non-profit that finds housing for the homeless.