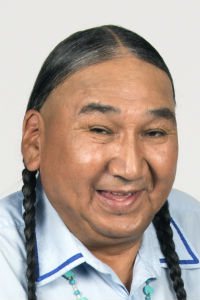 Chief Jim O'Chiese
Culture, Heritage, & Spirituality (2016)
"Our parents and ancestors kept us hidden  to protect the Anishinabe education and  the cultural values. The teachings are universal. It is our responsibility to teach  the future generation."
Jim O'Chiese is a great-grandfather, ceremonial leader, Chief, environmentalist, botanist, forester, medicine person, teacher, and more.
Born in the woodland and raised in a very traditional Foothills Ojibway family, he has a strong connection to the land and Indigenous knowledge. The Foothills Ojibway hid their children from the Indian Agents, so Jim was never taken to residential school, and his Ojibway and Cree education was completely intact. He had many teachers who helped to shape his understanding of medicines, ceremonies, the location and meaning of sacred sites, animal migration patterns, the land, the water, and the cosmos. Entrusted with this knowledge,  Jim feels the responsibility to pass it on to future generations.
Jim was instrumental in achieving the right for First Nations to use Jasper National Park – their traditional land – for ceremony and medicine gathering, after being prohibited from doing so since 1907.
In 2008, as Distinguished Professor at Yellowhead Tribal College, he developed courses addressing principles of ceremonies, natural law, and governance. In 2014, he led the development of an advanced-level course, An Introduction to Indigenous Health and Traditional Medicines, which includes a practicum at Jasper where students learn about sacred sites and medicines. Demand was instantaneous: students applied from across North America and enrollment reached capacity in a week.
Under his guidance, students from every walk of life are shown what they need to foster their resilience, re-connect their human and spiritual selves, and live in balance. It is a testimony to him that some even take his courses several times to continue learning with this renowned, yet humble, man.