2022 Soaring Talent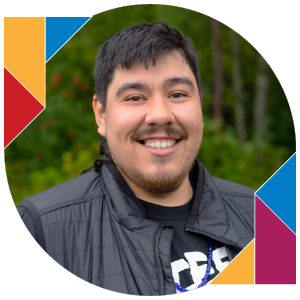 Kiefer Collison
Master of Ceremonies
Kiefer Collison was born and raised on Haida Gwaii, an archipelago of islands off the coast of British Columbia. Growing up in the small village of Old Massett has given him a unique look at a way of living and the strength in community. On Kiefer's time on the reality tv show Big Brother Canada season 9 he had the opportunity to represent all Indigenous people on a national scale. Kiefer says it was his greatest honour in life to be a representative for Indigenous peoples in Canada.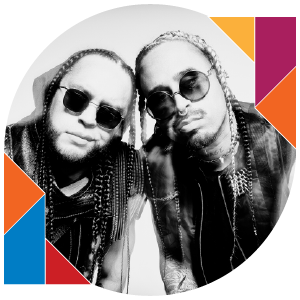 Snotty Nose Rez Kids
Entertainment
Snotty Nose Rez Kids is a Canadian Hip- Hop duo of Haisla (Indigenous) descent from Kitimat, BC. Rappers Yung Trybez and Young D formed the duo in 2016, releasing two albums in 2017 with their second, The Average Savage, winning them them Best Hip-Hop Artist at the Western Canadian Music Awards (WCMA's), cemented them on 2018's Top 10 list of the coveted Polaris Music Prize, and landed them a 2019 Juno Nomination for best Indigenous Music Album. The group toured heavily in Canada with appearances in New York City, Seattle and Darwin, Australia. They quickly gained notoriety for their energetic, inspiring and thought-provoking performances.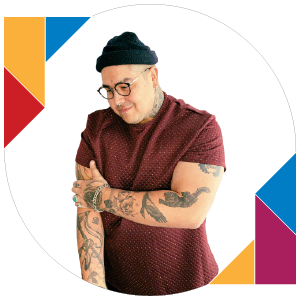 Wolf Saga
Entertainment
Eight years into the story of Wolf Saga, electropop polymath Johnny Saga is ready to debut his self-titled LP. A 2018 JUNO Masterclass Finalist who was named RBC Canada Emerging Artist in 2017, Saga's dreamlike synths dynamize as they soothe, offering a matured take on the affable bangers of the 2010s—MGMT, Daft Punk, Justice and Boyz Noize come to mind, with the wisdom of a decade in between. Wolf Saga was named to honour the spirit of the wolf—a loyal protector of loved ones that holds special meaning in Saga's Ojibwe culture. With this album, generous in its wisdom and lavish in its fun, Saga is on a quest to give listeners a reason to dance, but jokes that it's not all bottle service and strobe lights. The album's songs, guided by the unwavering presence of Saga's father, who passed away in 2019, were inspired by important causes, such as Black Lives Matter and support for Indigenous land defenders. Saga wants listeners to pay attention. He also wants to ignite our imaginations, comfort our memories, and to help us envision a resilient tomorrow.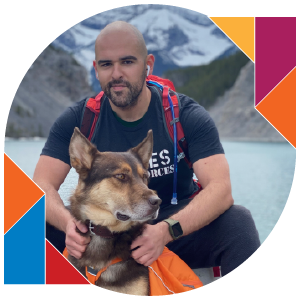 Josh Butcher
Panelist
Josh Butcher is a 29 year old Métis/Portuguese man born and raised in Edmonton, Alberta. The son of a 1st-generation immigrant mother from Portugal, and his Métis father, Josh grew up with a mixed heritage. It wasn't until high school that Josh started exploring his Indigenous ancestry. Upon graduating high school, Josh moved to Saskatoon, Saskatchewan where he played 6 years on the Offensive Line for the University of Saskatchewan Huskies football team. During that time, Josh was named a Huskie 1st team All-Academic 6 years in a row, an Academic All-Canadian 2 years in a row, and was one of 6 Canadian football players to ever be named a College Sports Information Directors of America (COSIDA) 1st-Team Academic All-American. During the course of his football career at U of S, he was accepted into the College of Medicine where he completed his medical degree and entered into a residency in Emergency Medicine. He is currently in his 4th year of Emergency Medicine residency, and is looking forward to completing a fellowship and moving into independent practice.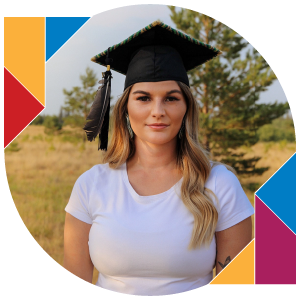 Tracie Léost
Panelist
Tracie Léost is an award-winning young Métis leader, activist and athlete from St. Laurent, Manitoba, in Treaty 1 territory. Her strong commitment to contributing to social justice is evidenced by the philanthropic and awareness initiatives she has spearheaded. In 2020, she founded Waanishka Movement Inc., a non-profit organization that supports Indigenous youth to rise. Tracie upholds her responsibilities as an emerging matriarch by serving her people and ensuring that all Indigenous youth have opportunities to grow and flourish. Through this work Tracie has been named one of Manitoba's most decorated Indigenous youth.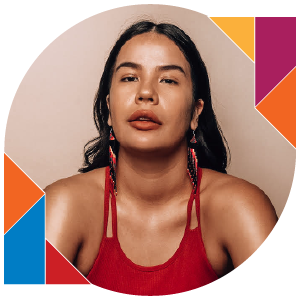 Shayla Oulette-Stonechild
Panelist
As a Mètis and Nehiyaw Iskwew (Plains Cree Woman) from Muscowpetung First Nations, Shayla Oulette-Stonechild has been a catalyst for Indigenous youth and women unlocking their full potential and reclaiming their voices. Shayla is a television show host and recently wrapped Season 3 of APTN's "Red Earth Uncovered". She was named internationally as one of the Top "20 Yoga Instructors of Color to Watch in 2020". Utilizing her skills as a powerful speaker and thought leader, Shayla is the founder of the "Matriarch Movement', a non-profit organization dedicated to highlighting Indigenous voices and providing wellness workshops to BIPOC women across Canada. Shayla also hosts a successful podcast titled "Matriarch Movement" that focuses on amplifying Indigenous women's voices and how they reclaim their power. The podcast can be heard on Apple and Spotify.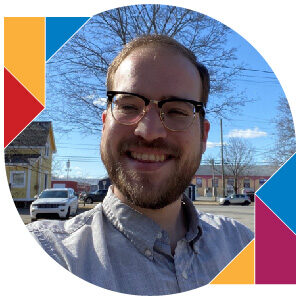 Kristian Harn
Panelist
My name is Kristian Harn and I am a member of Eel River Bar First Nations where I was born and raised until I was 12 years old.  My parents had both began extending their post-secondary education endeavors in the earlier 2000s, which led to my move to Fredericton, New Brunswick in 2004.  From that time, I graduated high school in 2010 and started my post-secondary education journey at the University of New Brunswick.  I had subsequently experienced a few different paths towards education, with my first year focusing within the business field.  My second year had me transfer credits to NBCC and gain a certificate in Desktop Support.  My final two years (back at UNB again) had me re-align more previously earned credits and gain enough experience to be one year shy of my Kindergarten to Grade 5 teacher certification within the province of New Brunswick.
Finally, following the 2020 upgrade of my technical skills to incorporate a Cybersecurity portion of expertise, I found employment as an Analyst within our Risk Advisory practice, under Infrastructure Security for our clients at Deloitte LLP.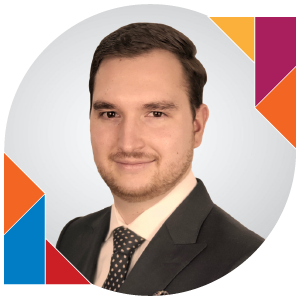 Matthew Lindsay
Panelist
Matthew Lindsay is a proud Member of Métis Nation British Columbia and his local Waceya Métis Society in Langley, BC. In his community, Matthew is the elected Region 2 (Lower Mainland) Youth Representative for Métis Youth BC and an elected Board Member of the Waceya Métis Society. Through these positions, Matthew has developed a unique understanding of some of the challenges faced by Métis youth locally, regionally, provincially, and nationally. 
Matthew is passionate about empowering Métis youth to pursue their educational and entrepreneurial goals and advocates for these initiatives in his positions on the MNBC Business Advisory Council and Youth Subcommittee for Employment and Skills Training.
Matthew is currently working full-time as a Senior Consultant with Deloitte where he sits in the Social Sector Transformation group within the Health and Human Services Practice. His professional experience spans a variety of industries including Information Technology, Consulting, Automotive and Real Estate.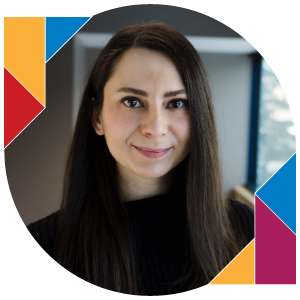 Erin Sader
Panelist
Erin was born and raised in Saskatoon Saskatchewan and is a member of the Métis Nation Saskatchewan. Erin completed her Bachelor of Commerce with a major in accounting in 2020 and joined Deloitte in May of that same year. She currently works in the Audit Private practice of the Deloitte Saskatoon office and enjoys working with Indigenous based entities and Non-Profit organizations. Erin is currently working on her CPA designation, and serves as an Alumni Advisor for the Indigenous Business Students Society at the University of Saskatchewan. In her spare time, she enjoys spending time with her family, including a husband, 8-year old son and miniature dachshund named Peach.