2019 Agenda
Wednesday, November 20
7:30 am –
4:00 pm
Registration Open
9:00 am –
4:00 pm
Pre-Gathering* Workshop
Truth and Reconciliation: An Educator's Guide, Presented by Dr. Niigaan Sinclair
10:15 –
10:30 am
AM Break
12:15 –
1:00 pm
Buffet Lunch
2:45 –
3:00 pm
PM Break
6:30 pm –
8:00 pm
Welcome Reception
Thursday, November 21
7:30 am –
5:00 pm
Registration, Sheraton Centre Hotel
7:30 am –
5:00 pm
Tradeshow Floor Open
8:30 –
9:45 am
Opening Ceremony
9:45 am –
10:45 pm
Workshop Session A
10:45 –
11:05 am
AM Break
11:05 am –
12:05 pm
Workshop Session B
12:15 –
2:15 pm
Guiding the Journey Educator Awards Ceremony
2:25 –
3:25 pm
Workshop Session C
3:25 –
3:45 pm
PM Break
3:45 –
4:45 pm
Workshop Session D
7:00 –
10:00 pm
Film Screening – The Grizzlies
Friday, November 22
8:00 am –
2:00 pm
Registration
8:00 am –
2:30 pm
Tradeshow Open
8:30 –
9:30 am
Guest Speaker Address, Presented by Dr. Niigaan Sinclair
9:30 –
10:30 am
Workshop Session E
10:30 –
10:50 am
AM Break
10:50 –
11:50 am
Workshop Session F
11:55 am –
12:55 pm
Workshop Session G
12:55 –
2:00 pm
Networking Luncheon
---
Pre-Gathering Workshop
Truth and Reconciliation: An Educator's Guide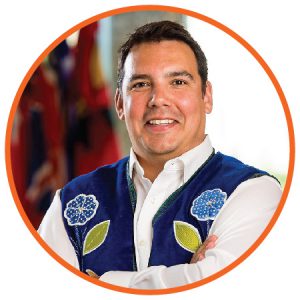 Presented by Dr. Niigaan Sinclair
Associate Professor / Acting Head, Department of Native Studies, The University of Manitoba, MB
The 94 recommendations from the Truth and Reconciliation Commission report (TRC) call to action Canadians from teachers to every sector and industry. In order to achieve true reconciliation, it is of fundamental importance that both private and public sectors receive information and interpretation of the TRC, as it relates to them.
This one-day workshop utilizes the final report of the TRC and its final 94 recommendations as the framework. The workshop and accompanying educator's guide provides educators with competency on how to incorporate the final report of the TRC into classrooms, schools, and other educational settings. Participants will receive training on two key themes: Legacy and Reconciliation. The workshop will be participatory and experiential, while also assisting with education planning. The accompanying educator's guide contains 22 education plans, which address each of the TRC's educational recommendations, to use as a reference.
---
Workshops
Bridging Indigenous Land Based Learning & STEM Education
Amy Michano, "Little Eagle Feather', Ontario
Biigtigong Nishnaabeg Endzhi-gkinoohmaading Elementary & Private High School is the central entity in the Northwestern Ontario community. This presentation will look at Biigtigong Nishnaabeg's incorporation of cultural practices into daily curriculum and use of land-based educational programming to combat generational trauma, the effects of residential schools, mental health and behavioural and social issues that have affected the community. This presentation will also look at Biigtigong Nishnaabeg's use of STEM Education (Science, Technology, Engineering and Math), to develop a new and exciting way for students to learn their culture. Participants in this workshop will learn how their own communities can make similar contributions to their children's learning, where the topics fit, and how to engage the communities.
Beyond the Iceberg: Empowering School Staff to Higher Understandings
Selynne Buchan and Caitlin Oberhofer, Alberta
This workshop provides a structural framework for delivering Indigenous foundational knowledge, perspectives, and lessons to all levels of school staff. Utilizing resources from the Alberta Teachers' Association, Edmonton Public Schools, and other widely available sources, the presenters led their staff through a learning journey of reconciliation. Participants will learn about resources which infuse Indigenous cultural knowledge, historical backgrounds, implications, and talking points for conversations with staff. Participants will walk through an example year plan which outlines a year of monthly professional development sessions tailored for staff to build foundational knowledge, understand Indigenous perspectives and weave them into a variety of general curricular areas to build staff capacity for integrating these perspectives on a regular basis in a natural manner. Furthermore, participants will have the opportunity to identify areas for growth and create a personalized year plan for themselves or a school staff which fits their staff and staff development.
Alternative Education Programs for Indigenous Students
Marcia Lewis, Ontario
This presentation will focus on six Alternative Education Programs available for Indigenous Youth and Adults wishing to attain their high school diploma outside of a typical public high school environment. These programs address each student's individual, social, academic and emotional needs while allowing them to earn credits. These unique classrooms integrate education with therapeutic programming and culture. Through a holistic approach, these programs relate to all four areas in education: Mental/Intellectual – Knowing, Emotional/Social – Feeling, Physical – Doing, Spiritual – Being, and relate to many of the sub-categories which fall under each of the areas. Participants will learn about the Alternative Education programs, hear the presenter's story and experience with Alternative Education, and have an opportunity to ask questions.
From Residential Schools to Reconciliation
Tammy Stoneman 'Akw Tla', Yukon
Yukon is committed to acknowledging the history, experiences, and impacts of residential schools. Yukon education in collaboration with Yukon First Nations has developed and implemented a Grade 10 Social Studies Unit on residential schools and is piloting a grade 5 Indian residential school Unit this school year. During this workshop we will talk about the work we have embarked on and how we support educators and learners as we travel this journey. Our presentation will allow participants to interact with one another through a movement activity and discussions that look at the impact Indian residential schools have had on First Nations people and how we can work together as we travel our journey towards reconciliation. We will finish our session off with a sharing circle.
Reimagining the School Calendar for Anishnaabe Schools: A Modest Proposal
Greg Wilson, Ontario
This presentation reimagines the school year calendar for band-run Anishinaabe schools. The presenter will outline the many positive outcomes that will result from First Nations, Inuit and Métis communities setting their own school year calendar based on the teachings and traditions of their history. There will also be an opportunity for attendees from different communities to discuss and examine how they might be able to use similar ideas to develop their own school calendar. As the school calendar is one of the basic necessary elements to the management and running of a school, it is necessary to have a calendar based in the teachings and traditions of each community to provide opportunities for communities to take control of their education system. This presentation will also include a question and answer session for participants.
Inspiring Teachers to Bring Residential School Content into their Classrooms
Katrina Cadotte & Janet Steadman, Ontario
In this presentation, educators will explore curriculum-related resources, activities and experiences that we have used for eight years to educate junior/intermediate divisions on residential schools. Our presentation will begin with the teachings of the Seven Fires. We will discuss topics that we have addressed as a school and how we include staff and students to participate, to create their own curriculum from resources provided. Participants in this presentation will receive a list of resources which will include a curriculum that is available to download. Participants will also have an opportunity to plan lessons and activities that will match curriculum expectations in Language Arts, Aboriginal Studies, Art and History.
Weaving Ways: Indigenous Ways of Knowing in Classrooms and Schools
Donna Ross, Alberta
Weaving Ways is a complimentary guide for educators who are deepening their foundational knowledge and educational approaches to foster reconciliation. Four interrelated quadrants provide a weaving of ways of Indigenous and Western pedagogical practices. The four quadrants are:
Cultures of belonging (how can I draw from the ways Indigenous people foster cultures of belonging in the classroom?
Instructional design (in what ways can Indigenous knowledge systems enhance how I design learning for students?)
Pedagogy (what similarities does Indigenous pedagogy have to my own pedagogical beliefs and approaches?)
Sharing through Story (how can we support deeper connection to learning outcomes for all students through storytelling?)
This workshop will provide participants with guiding questions, connections to resources, and opportunities to deepen their knowledge of Indigenous knowledge systems and ways in which to support their classroom outcomes.
Oma doonji dibendaagoz-imin: An Indigenous Cultural Education Course
Kimberly Embleton, Manitoba
In the Seven Oaks School Division, an Indigenous Cultural Education Course has been established to help reconnect students to the teachings of their families and communities. Throughout the school year, students join elders and teachers outside of the classroom to learn about ceremony, identity, belonging, responsibility, and purpose. Through participation in the Indigenous Cultural Education Course, students not only move closer towards their goal of high school completion but are also provided with opportunities to transform and heal their own lives and the lives of their families and communities. This presentation will focus on the creation and purpose of the Indigenous Cultural Education Course, it's connection to traditional and modern Indigenous pedagogies, as well as give voice to the students who have participated in the course. Participants will be asked to reflect on their own connections to the themes of the course through discussion and session activities.
Miyo Wahkotowin Good Relations
Deanna Speidel, Saskatchewan
Situated on Treaty 4 and Treaty 6 territories, and Homeland of the Métis people, Sask Polytech is committed to the renewal of relationships — miyo wahkohtowin — with our Indigenous communities. For Sask Polytech, this means we must integrate Indigenous ways of being, knowing, teaching and learning in everything we do.  In June 2018, Sask Polytech unveiled a new Indigenous Success Strategy that builds on the success and lessons learned from the 2009 Aboriginal Student Achievement Plan. Keeping its primary focus of Indigenous Student Success, this new strategy contributes to Sask Polytech's efforts to meet the Truth and Reconciliation Commission of Canada's Calls to Action and to live up to its commitments under the Colleges and Institutes Canada's Indigenous Education Protocol. Along with other institutional plans and initiatives, such as the Academic Model, it will help Sask Polytech meet the needs of our Indigenous communities and create an inclusive, welcoming place of learning. This presentation will explain the strategy over the next five years  The indigenous student experience at Sask Polytech is at the heart of the Indigenous Student Success Strategy. Indigenous students should feel welcome, inspired and empowered, but most of all they should feel like Sask Polytech is a place where they belong. Sask Polytech's overarching goal is to continue to increase recruitment, retention and success of Indigenous students across all our programs.
Halton's Learning Lodge: Heart of the Community and Grandmother's Voice: Forming the Future, Preserving the Past
Sherry Saevil, Ontario
Halton Catholic District School Board (HCDSB) and Indigenous Education Advisory Committee (IEAC) alongside the Indigenous Grandmothers and Knowledge Holders have create a space in our community of Halton to engage all parents and students by providing humble teachings and topics that encourage well-being, increased knowledge and understanding of Indigenous history in Canada. Participants will learn responsibilities through exercises and collaborative discussions with grandmothers and each other with traditional teachings that encourage an understanding of Mother Earth, the four elements (fire, water, earth and air), physical movement and it may require (personal choice) involvement in role play, games, and interactive exercises. The session is designed to embrace traditional teachings and apply them collectively and interactively to the group.
Living a Balanced life, by the Cree Tipi Teachings
Michael Bear, Alberta
In this presentation, participants will learn about the tripod of the tipi as the foundation to our life. In Cree tradition, the 3 first poles are:
Nanahitamowin – good listening skills, obedience
Kisteyhitowin – respect
Tapohteyimowin – humbleness
These are three building blocks that you need to build the foundation of your life. These teachings are a great way to reconnect to your roots and your Cree identity and start the journey of healing from historical traumas First Nations people faced through Indian residential schools. I myself am an intergenerational trauma survivor of Indian residential schools and will share how I gained a deeper connection with my culture and language using these teachings.
Keeping Language in Place
Mark Klein & David Ruelling, Saskatchewan
Over the last twelve years, the staff of Clearwater River Dene School have designed and implemented a comprehensive approach to bilingual education. It promotes both oral and written literacy in both Denesuline and English. At the core of our program is the Transitional Immersion Model where Dene is the First language of early instruction and English is slowly introduced after the foundation of the Dene language has been firmly entrenched. Students learn in both languages from Kindergarten to Grade 12. The final piece of our program is a one-of-a-kind community based four-year B. Ed program where students specialize in becoming Dene language specialists within an immersion context. This would serve to provide local instructors for future teacher education programs, a self-sustaining approach to community language revitalization.
Engaged Learners; Engaging Indigenous Youth in Northern Manitoba
Matt Lind, Manitoba
The Engaged Learners Program in Frontier School Division is located on the shores of Egg Lake, Opaskwayak Cree Nation, in Northern Manitoba. This unique program is designed to re-engage and support students aged 15-21 from over 35 communities who have previously and or currently disengaged from the school system. Students reside in housing on-site while attending programming for a period of two weeks, then are transported home in order to maintain an ongoing connection with family and community. Workshop participants will learn about the structure, registration process, student and program schedule, vocational education, mental health and wellness support, land-based education and academic programming. Participants will be encouraged to ask questions and engage in conversation with the presenters in order to gain a deeper understanding of the program.
Relevant & Respectful Reconciliation
Chris Scribe, Saskatchewan
To clear the path to reconciliation, this workshop will use Nehiyawewin language concepts to breakdown misconceptions and explore ways in which non-Indigenous people can move forward to navigate the path to reconciliation. The language concepts we will explore are; tapwewin (truth), wicitowin (friendship) and ahkameymowin (perseverance). Tapwewin is essentially the act of speaking, living, and breathing truth. Wicitowin speaks to the importance of honouring each other through friendship. Ahkameymowin is the strength that moves us from words to action. If we are to create genuine, relevant and respectful reconciliation we need to embrace the worldview of Indigenous people, language and culture. We all have a role to play in reconciliation, in this workshop we offer a pathway of understanding from the Nehiyaw perspective.
Bringing Niichii Home: Transformation and Healing through Indigenous Language and Teachings Outdoors and in K-3 Classrooms
Jessie Bottle, Jacinta Manitowabi, Kathy Sky, Yvette Manitowabi, Shelly Stagg Peterson & Amanda McLean, Ontario
In this presentation, seven K-3 educators introduce the Niichii Project, where puppets named Niichii (friend) come from a southern city to two northern Ontario communities to learn about who they are. Teachers, their students, community elders and Indigenous culture teachers bring Niichii along on cultural activities outside and inside the classroom. Through dramatic and other kinds of play, and through talking, drawing and writing, children reinforce and extend their learning by teaching Niichii what they know. This presentation will involve stories of the Niichii Project in K-3 classrooms and new learning about supporting young children's cultural and language learning, literacy and identity construction. Workshop participants will talk about ways in which children show what they are learning about their culture and language, and how they are creating Indigenous identities. Participants will also discuss how they might adapt the Niichii Project in their own classrooms.
Métis Paddle Making; Interdisciplinary Unit: Transforming Understandings of How Culture Connects Us to Place and Heals
Stephanie Maki, British Columbia
All grade 8 students participated in an interdisciplinary unit (Math and English) to explore the inquiry statement that relationships show up in many different places and we communicate in different ways. The focus of this interdisciplinary unit was the opportunity to learn about Indigenous worldview and culture, by working with a Métis artisan, to learn how to carve a Métis paddle (math classes) and by experiencing traditional oral stories and jigging in English classes. Furthermore, students were asked to reflect and demonstrate their understanding that experiences connect to place, story, cultural practices and perspectives relevant to Métis people. In this unit, they developed their own understandings of how they can transform their own knowledges and what reconciliation means to them.
The 4 A Concept: Awareness, Acknowledgement, Atonement, and Action to Transform and Heal through Reconciliation
Julia McDougall, Alberta
This workshop will examine core causes of inter-generational trauma, challenge common myths and misconceptions, as well as explore activities to foster effective relationships with First Nations, Métis and Inuit students, families and community. In this workshop, participants will engage in activities that challenge and dissolve negative stereotypes embedded in society. Participants will explore assimilation strategies that have contributed to many current realities of Indigenous students, families and community, and learn about different stressors. The participants will be invited to share their own supports for Indigenous children, themselves and others towards healing and reconciliation through awareness, acknowledgement, atonement and action.
New Paths: Honouring Our Stories Moving Education Forward
Sarah Johnson, Ontario
The Keewaytinook Okimakanak Board of Education (KOBE) has put culture and language at the forefront of its education plan. To support the student's interest in contemporary technology a computer language application was developed to be used as a resource designed to adapt to the 3 dialects (Oji-Cree, Cree, Ojibway) dominant in the KO region. The Honouring Our Stories (HOS) project has been developed to create curriculum for the students from the culture and community they live in. Part 1: Introduction Participants will brainstorm and share deficiency they face in the classroom environment in regard to language and culture. Part 2: Workshop structure: 1/ "How to say Boozhoo/Waichiaye": complexity of using traditional language and the multi-layered meaning of indigenous language structure 2/ Multi-lingual Inclusion: Introduction of language app and how to use it effectively 3/ Teaching through curriculum based on our stories (HOS): Indigenous learning through multi-platform experiential learning 4/ Technology strategies in inclusive planning; How to mix the old with the new.
Educational Leadership for Indigenous Educators
Earlyn Sharpe, Quebec
Within an Indigenous framework, the main theme of the workshop: Educational Leadership. How to take care of ones wellbeing (Ka'nikonhrí:io tánon Skén:nen) in order to lead effectively. How to work together with parents, community leaders, elders, community members, teachers, and others to meet the needs of students. How to be an effective leader in a First Nations context and how to lead change in on-reserve schools. How to effectively motivate teachers. Improving School Practices. How to heighten teacher expectations, both for student outcomes and their own teaching practices. How to implement data-driven decision making–collecting and using a range of data about student learning to improve classroom instruction for gifted and challenged students. How to identify an intellectually stimulating and culturally inclusive curriculum, (Tsi Niionkwarihò:ten /Our Ways) and how to work with teachers to provide it. How to provide feedback to teachers in ways that support improved instruction for First Nations youth. Activity: Seven Steps from Talk to Action, which allows participants to interact and share ideas to take back to their community to start a plan of action.
TRC in the Classroom featuring Elders
Jo-anne Thiessen & Natalie Barry & Barbara Nolan, Ontario
Adults in Motion partnered with the Algoma District and Huron-Superior District School Boards to bring our elders' knowledge, stories and wisdom into classrooms. The elders share Anishinaabemowin through songs, phrases, stories, history, and laughter! They do crafts, bring in games they make themselves, read books, make soup and bannock and wild rice dessert, bring in pictures, and share their own stories! Approximately 600 students and 24 teachers are reached each week! Students and their teachers learn about Indigenous culture, language, history, crafts, stories, spirituality and more from those who know it best. Elders that were once punished for speaking their language are helping our youth and their peers learn and celebrate our language and culture. Questions will be welcome throughout and a discussion period will follow.
Preserve Our Language Project
Sarah Johnson, Ontario
The Preserving Our Language Project seeks to assist learners in communicating with Elders via Syllabic Text using 21st Century Technologies. Employing Google Input Tools, learners may input Roman Orthography, that will be automatically converted to Syllabics in any three of the Languages in the Keewaytinook Okimakanak Communities. This made possible with " transliteration" coding completed by students from KO under the mentorship of Mike Filipetti and his team of students at St Ignatius High School in Thunder Bay, Ontario.
These sessions will be available in English and French
Connecting with the Past: Engaging with TRC Records in the Classroom
Kaila Johnston, Manitoba
The National Centre for Truth and Reconciliation database is a valuable and often untapped resource, housing approximately 55,000 publicly accessible documents, photographs, and statements collected by the Truth and Reconciliation Commission, which can be used to teach the effects of residential schools and the residential school experience. Participants will tour the NCTR database, learn how to search the database and how to conduct primary source document analysis. Participants will analyze sample documents, discussing truth, reliability, and context. Packages containing the steps of analysis, sample documents and links to other sample cases will be provided for take home. The skills developed during this workshop can be used to develop students' critical thinking skills and help them connect with residential school history in a deeper, more meaningful, way.
This session will be available in English and French.
Tisser des liens avec le passé : parler des dossiers de la CVR en classe
Kaila Johnston, Manitoba
La base de données de la Commission de vérité et réconciliation est une ressource précieuse et souvent inexploitée. Elle contient environ 55 000 documents, photographies et déclarations accessibles au public, collectés par la Commission de vérité et réconciliation, et qui peuvent être utilisés pour parler de l'histoire et des séquelles des pensionnats. Les participants se familiariseront avec la base de données de la CVR, apprendront à effectuer des recherches et une analyse des documents originaux. Ils analyseront des exemples de documents et discuteront de la vérité, de la fiabilité et du contexte. Des dossiers contenant les étapes de l'analyse, des exemples de documents et des liens vers d'autres cas types seront remis à chaque participant qui pourra les emporter. Les compétences développées au cours de cet atelier pourront être utilisées pour développer la pensée critique des élèves et les aider à tisser des liens avec l'histoire des pensionnats d'une manière plus approfondie et plus concrète.
Cette session sera disponible en anglais et en français.
Developing Connections: A Whole District Approach to Indigenous Education Professional Learning
Gail Brant-Terry, Ontario
The Upper Canada District School Board transformed its delivery of Indigenous Education professional learning by designing a holistic, authentic, inclusive and diverse journey of collaboration and continuous learning. Workshop participants will come away with an understanding of collaborative professionalism within a whole school and district approach, an understanding of how school libraries (in person and virtually) support embedding Indigenous education in all subjects, and an understanding of how a shared district vision can be spread and sustained at a school level through purposeful planning. Through discussion, video testimonials and demonstrations of professional learning, session presenters will describe the process of building 'concentric circles' of knowledge keepers, board, Indigenous education staff, and school libraries/learning commons staff to holistically support teacher's professional learning, as well as teacher confidence and efficacy. Workshop participants will build a shared understanding of transformative Indigenous education professional learning through exploring guided questions in both small and whole group activities.
This session will be available in English and French.
Établir des liens : l'approche globale d'un district en matière d'éducation autochtone
Formation professionnelle
Gail Brant-Terry, Ontario
L'Upper Canada District School Board (Conseil scolaire du district du Haut-Canada) a transformé sa formation professionnelle en éducation autochtone en mettant sur pied un parcours de collaboration et de formation continue holistique, authentique, inclusif et diversifié. Les participants à l'atelier se familiariseront avec la collaboration professionnelle implémentée au sein d'une école et d'un district, découvriront comment les bibliothèques scolaires (en personne et virtuellement) appuient l'intégration de l'éducation autochtone dans toutes les matières et comment l'approche globale d'un district peut être partagée et soutenue au niveau de l'école grâce à une planification ciblée. Par le biais de discussions, de témoignages vidéo et d'exemples de formation professionnelle, les présentateurs de la session décriront le processus de création de « cercles concentriques » formés de gardiens du savoir, de conseils scolaires, d'équipes éducatives autochtones et du personnel de bibliothèques scolaires/ressources communes dans le but de soutenir de manière holistique la formation professionnelle des enseignants ainsi que leur confiance et leur efficacité. Les participants à l'atelier développeront une vision commune d'une formation professionnelle en éducation autochtone transformatrice en explorant diverses questions dans des activités d'ensemble ou en petits groupes.
Cette session sera disponible en anglais et en français.
The Path from High School Student to Teacher – "Build from Within"
Rob Riel, Manitoba
Ozhitoon Onji Peenjiiee (Ojibwe) "Build from Within" was created to fill the need of Indigenous teachers in the Winnipeg School Division. This presentation will discuss how the program, which will create 60 of the best teachers through a 7-year initiative, was planned out including information on proposals, promotion, Application Day, parent meetings, cultural events, partnerships, timetables, etc., up to our first days at the University of Winnipeg in the PACE program. The presentation will also include a timeline and description of the program's first full year of operation. Participants will be involved by asking questions during the question and answer period.
This session will be available in English and French.
Le parcours d'un élève du secondaire devenu enseignant : « Bâtir de l'intérieur »
Rob Riel, Manitoba
« Bâtir de l'intérieur », Ozhitoon Onji Peenjiiee (en ojibwé) a été créé pour répondre aux besoins des enseignants autochtones de la division scolaire de Winnipeg. Cette présentation expliquera comment le programme, qui formera 60 enseignants exceptionnels au cours d'une période de 7 ans, a été planifié en incluant des informations relatives aux propositions, à la promotion, à la journée d'inscription, aux réunions de parents, aux manifestations culturelles, aux partenariats, aux calendriers, etc., jusqu'aux premiers jours à l'Université de Winnipeg dans le programme PACE. La présentation comprendra également un calendrier et une description complète de la première année d'existence du programme. Les participants prendront part en posant des questions pendant la période de questions et réponses.
Cette session sera disponible en anglais et en français.