Recipient Ceremony & Dinner
May 12, 2022 | Shaw Centre, Ottawa, ON
Join us in-person in Ottawa on May 12th for a new Indspire Awards format. This year's celebration of the extraordinary recipients will start with a reception, followed by a dinner featuring Award presentations and entertainment. This event will launch a month-long watch party campaign to encourage people across the country in schools, communities, and workplaces to imagine their own festivities when they tune in to the 2022 Indspire Awards broadcast on APTN and CBC in June. This new approach will bring our country together to watch a one-of-kind show built on a collective vision for a brighter, stronger future for all Canadians.
Indspire is mindful of the ongoing COVID-19 situation and has planned this event in accordance with public health guidelines. All event staff will be vaccinated, and we welcome guests' personal decisions to mask when and if they choose. If you have any questions about these protocols, please do not hesitate to contact us at communications@indspire.ca . For the most current health guidance from the Ontario Ministry of Health, please see https://covid-19.ontario.ca/public-health-measures.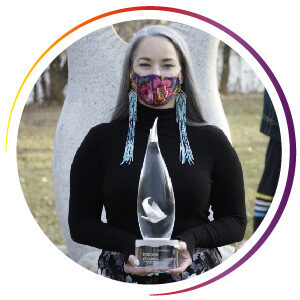 About the Indspire Awards
The Indspire Awards represents the highest honour the Indigenous community bestows upon its own people. After 29 years, the Indspire Awards have honoured 396 First Nations, Inuit, and Métis individuals who demonstrate outstanding achievement. The show is a nationally broadcast celebration of culture showcasing the diversity of Indigenous peoples in Canada including performances by Canada's biggest names in Indigenous entertainment.
Questions?
For information related to tables and tickets, please contact Tammy Murphy at tmurphy@indspire.ca or (647) 925-3970.
Tickets for the 2022 Indspire Awards Recipient Ceremony & Dinner are SOLD OUT. Thank you to everyone who purchased tickets and we look forward to seeing you in Ottawa on May 12!